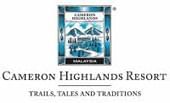 Cameron Highlands was named after William Cameron, a British Government surveyor who discovered it in 1885 on a mapping expedition but failed to mark his discovery. It was not until 1925 that Sir George Maxwell recorded Cameron's discovery and developed it as a hill station attracting British colonials and expatriates, including British planters who realised the potential of its fertile mountain slopes for growing tea.
Set 1,500 metres above sea level in a forested mountainscape, Cameron Highlands Resort is built as a long extension from an existing 1930s cottage with architecture dating from the 1070s. Promising splendour, romance and nostalgia, the interiors hark back to its grand colonial heritage with tall French doors, timber-beamed ceilings and plantation shutters combined with the colours and textures of Jim Thompson's famed Asian silks. This is mirrored in the friendly service, where traditional English charm merges seamlessly with discreet Asian hospitality.
Endearingly known as the 'little piece of England in Asia', the cool climate on the picturesque plateau and its hilly greenery are tailor-made for rounds of golf, pink-cheeked rambles along jungle trails, tea plantations, farms or gardens, afternoon tea with scones and spa treatments that celebrate the restorative powers of tea. Elegant interiors, lush surroundings and five-star care set the tone for the perfect highland getaway filled with trails, tales and traditions.
Signature Picnic Experience

Jim Thompson Mystery Trail

Murder Mystery in the Misty Mountains

The Organic Culinary Journey

Trails to Pos Rantau - An Orang Asli Village

Golf

Tea Plantation

Waterfalls and Nature Trails

Farms

Night Market