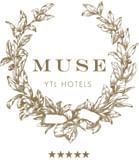 MUSE pays tribute to the daughters of Zeus, king of the gods and Mnemosyne, goddess of memory; the original muses that embodied a different art each and inspired creation. In emulation of muses as sources of an artist's inspiration, the ultimate unparalleled experiences are brought to life.
Encapsulating the laid-back glamour of the Riviera, MUSE Saint Tropez is a chic bespoke retreat that reflects architectural simplicity nestled in the heart of an award-winning ecological and self-sustainable garden designed by acclaimed landscape artist, Sophie Agata Ambroise.
MUSE is a state of mind where minute details interweaves with life's perfect moments or time bubbles of pure happiness. A celebration of senses, tastes and textures. Evoking pleasure to the eye. MUSE leaves nothing to chance to make each second with us a true tribute to art.