Spa Village Malacca is the world's only spa to base its therapies on the healing heritage of the Baba-Nyonya or Peranakan culture - a unique combination of Chinese and Malay influences. Spread across two levels at The Majestic Malacca, the rich heritage is reflected not only through the therapies but also within the architecture, which provides an environment designed to capture the essence of the location. Traditional Peranakan Chinese day-beds are bathed in muted sunlight from floor to ceiling windows in the relaxation lounge while private treatment rooms exude refined luxury through fine porcelain wall tiles, ornate silverware and intricate traditional wood carving.
Inspired by the elaborate and colourful 12-day Peranakan Wedding Ceremony, every guest enjoys a pre-spa experience that includes a soothing hair care ritual. Therapies are molded around a person's cool or warm energies based on Peranakan belief and inspired by traditional Chinese medicine. The combinations of age-old traditional remedies sourced from indigenous ingredients are believed to cleanse, replenish and reinvigorate, both physically and mentally. Spa Village Malacca embraces the rich multicultural influences and offers guests a glimpse of this way of life with a spa experience like no other.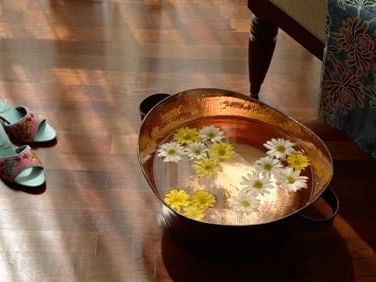 SUAM-SUAM PANAS EXPERIENCE (WARMING)
• Malacca Palm-Sugar and Honey Body Scrub
• Natmeg-Rice Rolling Massage
• Pandan-Coconut Hair Mask
• Bird's Nest Facial with Fermented Tapioca Mask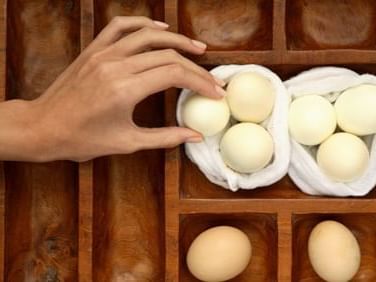 SHIOK-SHIOK SEJUK EXPERIENCE (COOLING)
• Yoghurt-Guava Leaves Body Scrub
• Egg Rolling Body Therapy
• Limau Kasturi-Yoghurt Hair Mask
• Bird's Nest Facial with Star Fruit Mask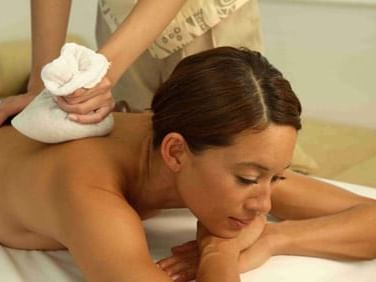 NUTMEG-RICE ROLLING MASSAGE
Spasms occur when body muscles are tight and constricted for a long time. In traditional healing cultures, this painful spamodic movement is traditionally referred to as 'wind' in the body. This treatment provides relief to individuals who experiences joint and backaches. Nutmeg and rice are massaged onto the body to jointly reduce aches and wind from the muscles.