THE MAJESTIC SPA KUALA LUMPUR
Distinctively appointed in the art deco style of Scottish architect and designer Charles Rennie Macintosh's Willow Tearooms, The Majestic Spa offers something different. Turn of the century England was not only a period of social grace and tradition, but also of progress and change. The Willow Tearooms of Scotland became iconic gathering places for businessmen to meet, read the paper or discuss politics, and an elegant environment for proper ladies to lunch, play cards and socialise. Serving as home to many British expatriates, British Malaya also embodied the feeling of this transitional time. Although longing for the comforts of their home, these "strangers in a strange land" adapted to all things new and exotic, finding the experience both fascinating and daunting. True to the spirit of this time, The Majestic Spa reflects upon a golden era in Malaysian history. Spa Experiences offered include the intriguingly named Queen Victoria's Lavender and English Afternoon Tea.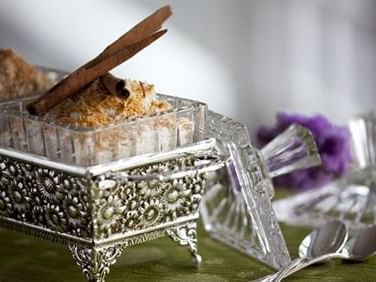 MALAYA GOLDEN CHERSONESE
Our couple's experience celebrates the epic journey of Isabella Lucy Bird in British Malaya and her bold passion for adventure. One of the most influential female explorers and writers of her time, this intrepid Englishwoman spent most of her childhood very sickly. She grew to dread the conformities of domestic life in England. So upon the suggestion of her doctor and with 100 pounds in her pocket, Isabella commenced a journey that in a lifetime saw her circumvent the globe three times over. Her time spent in British Malaya is famously chronicled in "The Golden Chersonese" – the ancient name of the Malay Peninsula. Ms. Bird's evocative account of Malaya ignites the imagination of an exotic and exquisite land. Brilliantly plumed birds, delectable fruits, and heavenly fragrant flowers were the subject of detailed study, as she marveled over the richness and plentitude of natural beauty found here in Malaysia.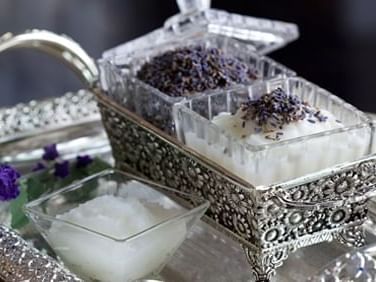 QUEEN VICTORIA'S LAVENDER
English lavender is one of the most coveted and treasured fragrances in the world. Known for its fresh scent and soothing anti-bacterial properties, lavender gained overwhelming popularity during the reign of Queen Victoria of England. Her enthusiastic passion for this versatile herb was so strong, that it became a requirement for all of the royal palaces. It was not only widely used by master perfumers but also used to stuff mattresses and pillows, and extravagantly strewn on floors to release its fragrance under foot traffic. Because of this royal blessing, lavender was extremely fashionable among English ladies of the time. Young maidens even placed small sachets between their breasts to attract suitors! Contemporary scientists however, have found the potent herb to have a direct effect in calming the nervous system and lavender is more modernly used to help regulate sleep and reduce stress. This experience is a perfect choice for those seeking deep relaxation.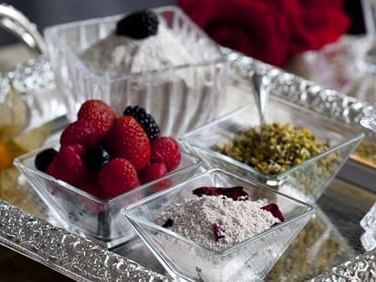 ENGLISH AFTERNOON TEA
The quintessential tradition of afternoon tea is honoured in this experience. Anna, Duchess of Bedford, is said to have created the idea of afternoon tea, having complained of suffering "that sinking feeling" between breakfast and dinner. She began taking a pot of tea and a light snack in her boudoir at Woburn Abbey. Later, after returning to London, invitation cards were sent to her friends to join her for snacks, tea and walks in the fields. Social hostesses picked up on this practice and before long all of fashionable society was sipping tea and nibbling cakes and berries in the middle of the afternoon. We begin our English Afternoon with an antioxidant berries and moisture rich cream scrub followed by the sweet smell of a garden berries oil massage and brilliantly topped off with a fragrant English rose natural facial.