Every breath is pure refreshment, a relaxation of the soul, a pure journey of revival. In Malay we call this Sucimurni. In Malaysia it is Tanjong Jara.
The philosophy of Sucimurni emphasizes purity of spirit, health, and well-being. The award-winning Spa Village Tanjong Jara is a sanctuary anchored in this ancient Malay way of life.
This beautiful complex of structures, gardens and pools, houses a therapy centre featuring programs for relaxation, reinvigoration and stress relief based on traditional healing methods. These unique restorative Malay treatments have been handed down from generation to generation, ensuring their authenticity, and therapeutic value. With a history of more than a thousand years, the practices are believed to have their origins in the convergence of Malay, Arab, Indian and Chinese influences during the days of the Malacca Sultanate.
At the Spa Village Tanjong Jara these long held health and beauty traditions are revived for you to enjoy. Treat yourself to this rich history, in which unique natural ingredients found in various indigenous herbs and plants are combined with the skills of our resident Malay healers to provide a very special health and beauty experience. Once you have completed your treatment at Spa Village Tanjong Jara you will receive a beautiful batik sarong, providing you with a memento of your own personal Sucimurni experience.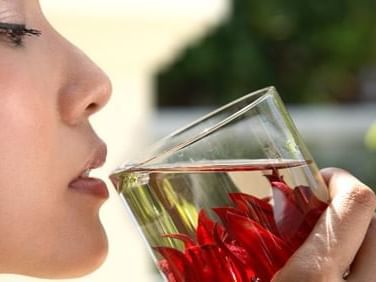 ASAM ROSELLE (ROSELLE BODY TREATMENT)
Red flowers from the Roselle plant have long been used in traditional medicine and local delicacies. It is known to benefit the kidney system, lower blood-sugar levels, and have diuretic and anti-inflammatory properties. It forms natural collagen and assists in vitamin absorption thus improving complexion, and assisting with anti-aging. The Roselle Body Treatment consists of:
• Asam Relaxing Massage
• Roselle Cream Scrub
• Roselle Tea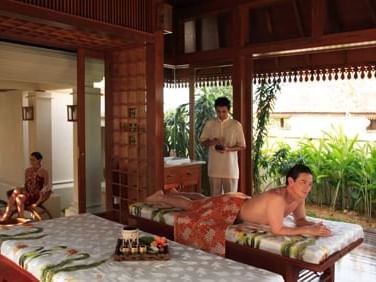 COUPLE'S SPA EXPERIENCE
Malay wedding ceremonies are known for their pomp, pageantry and the traditional preparation that is lavished on those that are to be married. The custom of preparing the bride and bridegroom is held as a treasured family secret, and focuses holistically on the mind, body and spirit. The half day Couples Spa Experience includes a series of special body treatments based on these ancient Malay traditions.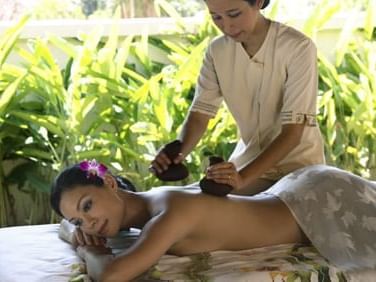 TRADITIONAL MALAY MASSAGE
The art of traditional Malay massage is passed on from generation to generation. The technique consists of long kneading strokes that focus on the muscles, and pressure applied to various points on the body. This treatment uses oil made with special local ingredients such as turmeric, cinnamon, garlic, onion and citronella that invigorates circulation. It ends with an earthen pot prepared remedy of scented herbal roots and flower buds, a special tonic believed by some to be the secret of anti-aging.