The Spa Village at Pangkor Laut Resort is a unique retreat that extols the healing cultures of the region. Malaysia, with its diverse history of people and cultures, and vast abundance of natural resources, provides the backdrop for health rituals that are amongst the oldest in the world. The abundance of Malay, Chinese and Indian practices makes this the ideal setting for complete rejuvenation.
The Spa Village comprises a number of specially built structures designed to facilitate an extensive range of treatments from China, Japan, India, Thailand, Bali and Malaysia, including 22 beautiful Spa Villas situated over the sea with direct access to the Spa Village. Programmes combine physical and spiritual health and well-being, and are based on one of four umbrella concepts: Rejuvenation and Longevity, Relaxation and Stress Reduction, Detoxification, and Romance.
For those seeking to fully experience the health rituals of the region, we recommend that you meet with our Chinese, Ayurvedic or Malay Specialist for a consultation at the beginning of your stay. Our comprehensive approach to health will lend helpful insight to your stay at the Spa Village, as well as life-long tools for vibrant living.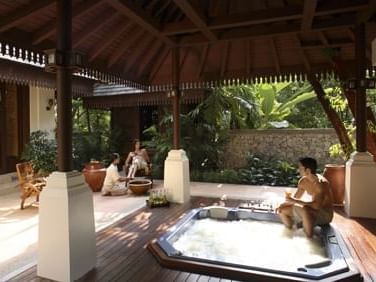 ULTIMATE SPA EXPERIENCE
Relax in the luxurious seclusion of the Belian Spa Pavilion, an exclusive retreat perfect for couples with its own outdoor whirlpool, yoga pavilion, nap gazebo, steam room and private treatment area. The pavilion is yours to enjoy various treatments, or explore the other features of the Spa Village from the lap pool to the Bath House. Select a half-day or full day experience, and discuss your choice of treatments and activities with our expert therapists.
Recommended for couples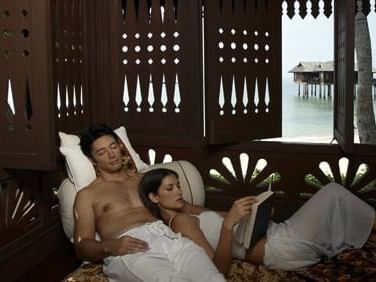 COUPLE'S SPA EXPERIENCE
A Malay wedding ceremony is renowned for its pomp and pageantry, practised for hundreds of years from generation to generation. Traditional Malay wedding culture seeks to prepare the wedding couple holistically, involving the mind, body and spirit. Our Couple's Spa Experience includes a series of special body treatments for her and for him, based on these ancient Malay wedding traditions. The Secrets of Puteri Lindungan Bulan and Panglima Bukit Gantang are highly fitting royal treatments for a warrior and his princess.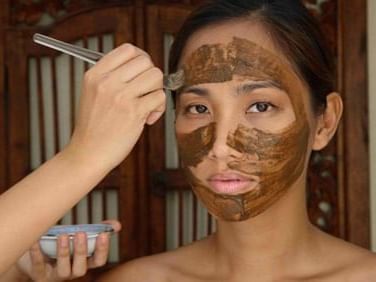 MIAN BU HU LIAO (CHINESE HERBAL FACIAL)
Begin with a traditional snuff of aromatic herbs that clears the nasal passages, relieves headaches and sharpens the senses. Followed by a warm mulberry facial wash, a sandalwood and winter melon scrub to exfoliate the skin, and an acupressure massage to tone the facial tissues. End with a mask of crushed pearls and ginseng. This is a secret held exclusively by the concubines of Imperial China, behind the closed doors of the Forbidden City.