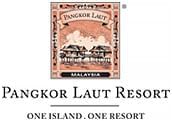 Nestled amidst an ancient rainforest, on a private island fringed by white sandy beaches and emerald waters lies Pangkor Laut Resort.
Set along the Straits of Malacca, three miles off the West Coast of Malaysia, discover a piece of paradise 2 million years in the making. Of the island's 300 acres, only a fraction has been developed to house this peaceful luxury resort and its Estates.
Declared a paradise by the late Pavarotti and previously voted 'Number One in the World' by Condé Nast Traveller; here, wooden buildings blend seamlessly into the forest, walls curve around foliage, and roofs open up to allow trees to continue on their journey to the sky. Resting beneath the shade of forest giants as old as the land, this island is not only home to one of the world's premier resorts but also to variety of wildlife. Long-tailed macaques and oriental pied hornbills perch in the branches above while white-bellied sea eagles soar overhead and large monitor lizards sunbathe on the island's rocky outcrops.
Nature is respected here, almost revered and it rewards visitors in ways that simply need to be experienced.
The Chef's Kitchen Experience

Dining on Emerald Bay

Raja Sehari

Pangkor Island Excursion

Romantic Retreat

Ultimate Spa Experience

'The Impian' Private Cruise

Sunset Cruise

Chartered Luxury Cruises